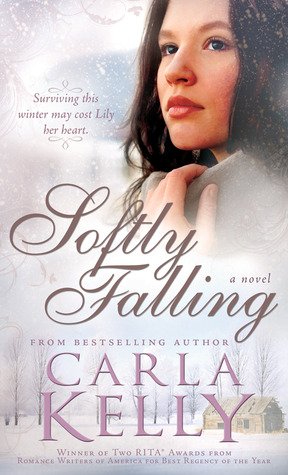 Beautiful Lily Branson learns that her wayward father has lost his Wyoming cattle ranch in a card game to handsome cowboy Jack Sinclair, no less! When a series of deadly winter storms sets in, Lily and Jack must work together to save the cattle—as well as their hearts.
I've always loved a good historical romance, especially those set in the West--cowboys, Indians, settlers, farmers. Reading about the hardships fought and lands won usually makes a reader appreciate the civility that we live in now. Falling Softly is a historical romance set in the West with an unusual twist. Lily Carteret, the heroine, is mixed race. Of Barbados and British heritage, Lily is beautiful, brave, strong, and on her own in the Wyoming Territory. Her alcoholic father has lost his ranch in a poker game and is now the bookkeeper for another rancher.
Luckily for Lily, she doesn't have to fight a lot of racism. The other people living on the ranch are French, Indian, American, and British. The ultimate melting pot of nationalities that characterized America during the 1800's. As Lily tries to help her father stop drinking, she must also figure out what her new role in this wild country will be. While doing so, she becomes the glue that holds the ranch hands together during an unusually harsh winter.
Very well-written, well-researched, and entertaining story. I hope that our readers will grab a copy of Softly Falling and enjoy it as much as I did.
Publisher-Cedar Fort Publishing & Media
Thank you to the publisher for the donation of this book to the Read for your Future book Program in exchange for a honest review!!!